Welcome to the PTA page!
What is the PTA?
The Parent Teacher Association (PTA), is an organisation of parents and staff. Its role is to encourage closer links between home and school. PTA groups are best known for their fundraising work, but they have a useful social function too. Fundraising events provide an opportunity for parents, staff and pupils to get together.
How to get involved
There are many different ways you can help with the PTA, whether you have lots of time to offer or not.
Some of the roles are time-consuming, although also rewarding. If you can't commit to a big job, look out for things you can do less frequently (e.g. running a stall at the summer fair, baking for a cake sale). And you can always support PTA events by simply turning up.
The Summer fair was a big success! Thank you to all who helped raise money for the school.
With money raised, the PTA bought two new scooters and two new balance bikes for the children in EYFS. The children were very excited indeed!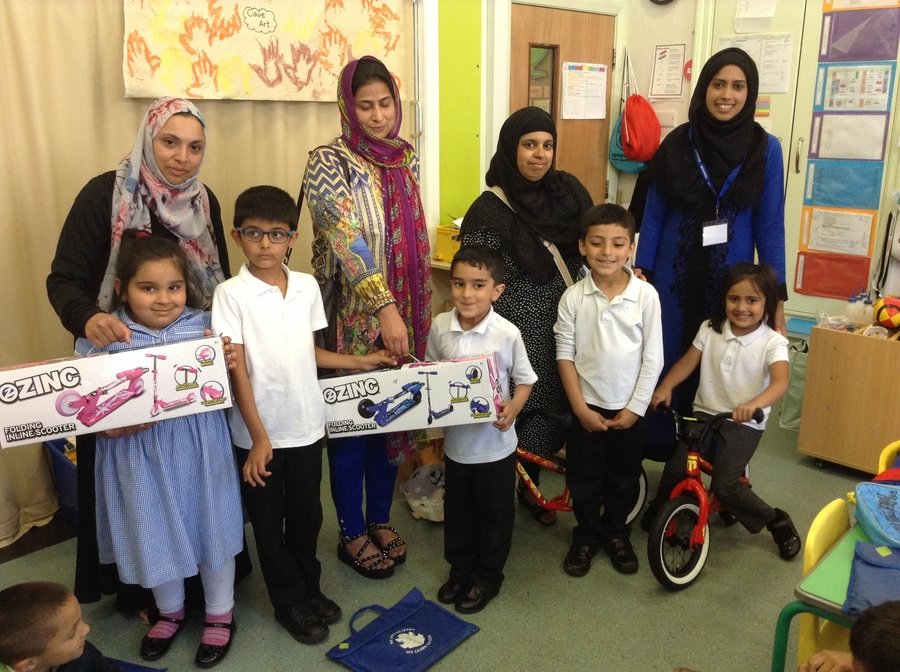 The Easter Hamper Raffle
Aleemuddin was our lucky raffle winner, winning this fabulous Easter hamper with an Easter egg, a mug, a teddy and some extra hidden treats! Well done Aleemuddin!
School Easter Event
Take a look at some of the children in KS1 enjoying our Easter Event. There were lots of games and challenges for the children to do and we really enjoyed providing this afternoon in school for the children to enjoy!
26th January 2018 ~ Tea and Cakes with the PTA
We had a lovely morning chatting with new parents today.
Christmas Fair
The PTA team organised a Christmas Fair, which was a huge success. Santa and his little helpers (PTA Team) managed to help raise just over £700 for the school. We would like to Thank each and everyone of you who helped make this event a great success!!
Having lots of fun creating activities for our events!